PNNL Smartphone Microscope How to Guide

Smartphone Microscope: Directions for Use
Our 100x smartphone microscope is compatible with most phones and tablets using either the front-facing or back-facing camera. Experiment with the device and different objects to get the hang of it.
---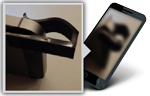 Remove case. Slip the clip over your device, lining up the small glass lens with either the front- or back-facing camera center. Open the camera app. It is often easier at first to learn to use the microscope in selfie mode.
---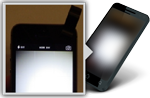 Move the clip slowly around until a uniform white image appears on the screen.
For this step, the microscope cannot be laying on a table; some light must pass between or through the objects, otherwise there will be no image. Work in a well-lit area.
---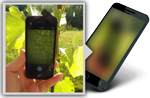 Hold the microscope very close (only a few millimeters) to the object of interest.
Best to touch the microscope to the object and slowly move it away to focus. Light must be able to pass between or through the objects and the lens, otherwise there will be no image. The more you can see through the object you're examining, the better the picture you will see.
Hint: It is easiest when using regular camera mode to place the object on a glass table in a well-lit location.  If one isn't available, the flat bottom of an upturned tumbler works well as a "stage."
---