Portfolio:
Information Technology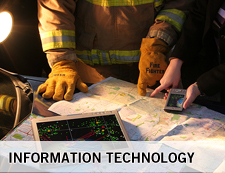 In a world where information is prolific, it's understandable that the meaning of so much data is lost in the sheer bulk. Pacific Northwest National Laboratory has developed an international reputation for developing and deploying technologies that rapidly provide visual context and analysis of enormous and disparate datasets, which has provided for opportunities to leadership for unique organizations such as the National Visualization and Analytics Center.
The Laboratory's growing IT portfolio is packed deep with useful intellectual property and backed by experts who are always working on the next generation of analysis, visualization, and cyber security tools. Many of these technologies hold the key to unlocking the potential of information - tap into our knowledge by using these tools "off the shelf" or developing them for your application.
Customizable Management Tools
Energy Efficiency Solutions
Information Analytics and Visualization
Modeling Tools